Welcome to mcardphoto, where memories come alive. 📸
I'm John, your storyteller behind the lens. From electrifying live music to intimate family moments, passionate public protests to everything in between.

My expertise lies in curating a visual narrative that encapsulates the ambiance and spirit of any event or moment. With a candid style, each photograph I take paints a story.
Dive into my portfolio [here] or navigate to 'My Work' from the menu. Explore the sample gallery at the bottom of this page, and feel free to connect via the contact form below if you have any questions or would like a quote!
If you need your images pronto - request same-day or even as-it-happens digital delivery.
Digital media solutions for your business or team can also be accommodated. Whether it's an immediate social media upload, a stress-free media handling experience, or even a comprehensive digital media strategy and team setup, we can help you get the ball rolling.
*studio time for shoots requires a booking through me with a local studio in Cork City

Right now, I am actively working on expanding to offering video services alongside my usual photography services, and hope to have a showreel/demo reel ready in the next few months. I provide some video services right now, it just isn't advertised currently! Check out my YouTube channel for the time being and check back here soon, or drop me an email to discuss more!

Where am I based?

Based on the outskirts of Cork City, Ireland, I can make travel arrangements to almost any part of the country given schedule availability.
Special travel requests always considered.

"You should be taking photos about things, not just of things" -James Popsys
CONTACT

For more information, or to get in touch about bookings, collaborations, exhibitions or other opportunities, please use this form or the details below!

Reach out on WhatsApp or call me on 087 390 2113

You can also drop me an email anytime at mcardphoto@gmail.com
Many thanks!
Looking for Gift Cards? They have moved, click here!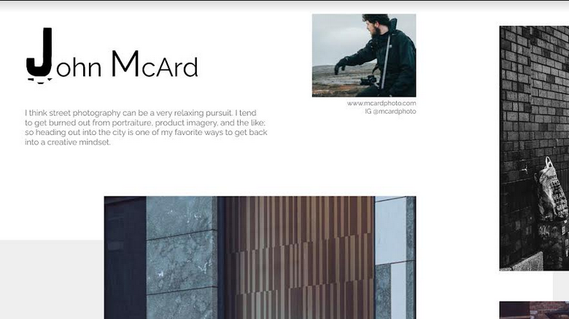 Bruxelles Art Vue Foundation - Street Life 2022 Contributor
I am very glad to have had my images selected for a two page contribution in the hardcover book 'Street Life 2022' by the Bruxelles Art Vue Foundation, along with many other fantastic artists in this genre!

Read more about this contribution on the News Feed below, or take a look at their website here.
Download the full digital PDF version from their website!

The below sample gallery is formatted for desktop web, not for mobile. My provider prevents me from doing this, and they are hopefully adding this feature soon. Check out the site on desktop instead (or My Work contains galleries full of my images, correctly formatted for mobile!)